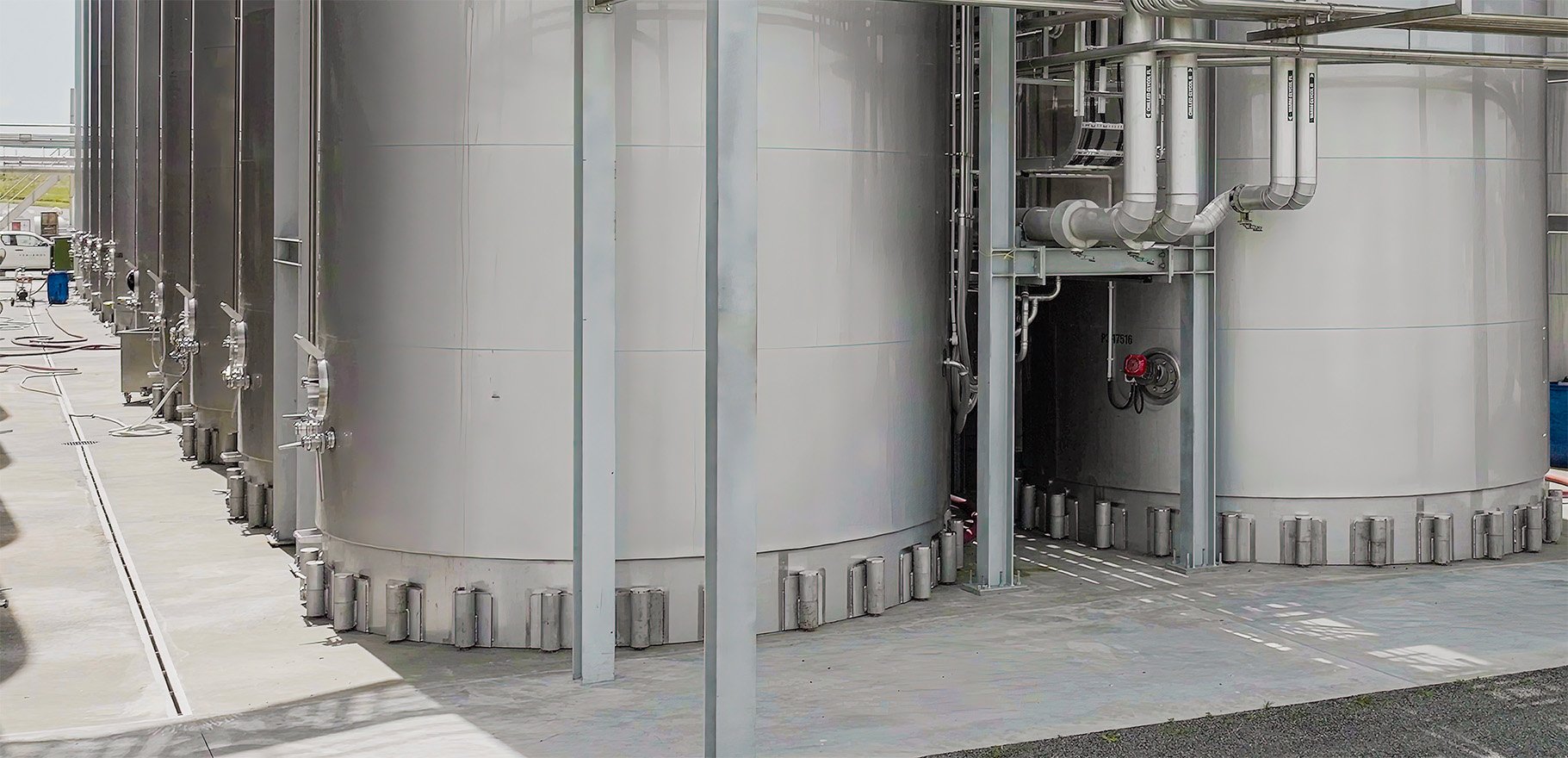 SEISMIC TANK ANCHORS
Smart operators are taking action now to minimize the impact of future earthquakes. Even minor damage can lead to loss of product, loss of production capacity, loss of income, and loss of market share. Unlike other anchors, Tectonus anchors require no repair or replacement after an earthquake. This means no downtime after an event waiting for your tanks or tank anchors to be repaired, giving you ultimate peace of mind.
Continuous Protection
Tectonus anchors automatically reset themselves and are ready to protect through earthquakes and multiple aftershocks.
Zero Maintenance
No periodic inspection or maintenance is needed, and no repair or replacement after an earthquake.
Lower Seismic Demand
Compared to traditional anchors, Tectonus anchors can reduce the thickness of tank and foundations.
Seismic Experts
We're experts in earthquake engineering, trusted to protect hospitals, high-rise apartments, airports, and storage tanks.
"I particularly like that Tectonus tank anchors automatically reset themselves - so we're protected from aftershocks as well as the main event."
Applications
Tectonus seismic anchors can be used to protect above-ground storage tanks in various industries. The devices can be tuned to provide optimal performance across different aspect ratios and content types.
The Resilient Seismic Anchor
No sacrificial elements
Suitable for new and retrofit
Over 30% less force demand - resulting in thinner tanks and foundations
Enables taller tanks, saving valuable space
Anchor can be applied to large-scale tanks
No repair
Tectonus anchors do not require post-earthquake repair, since there are no sacrificial parts to check or replace.
No servicing
There is no maintenance schedule. Every anchor is tested and certified to withstand multiple seismic events.
No replacement
The anchors have a design life of 50 years and do not need to be replaced even after an earthquake.
Compliance
Tectonus designs solutions in accordance with recognized global standards and methodologies:
API 650
ASCE 7
AWWA D100
NZS1170.5
NZSEE 'Seismic Design of Storage Tanks' – 2009
We're experts in seismic design and analysis including both displacement and non-linear time history analysis, so you can be sure the specification and stated performance is true and accurate.


Seismic Performance
The Tectonus anchor is a patented damage-free self-centering damper with a repeated flag-shape hysteresis response.
In production testing, every anchor is subjected to the design-level earthquake force. The recorded curves demonstrate the target seismic performance specified. Repeated test cycles generate almost identical curves, demonstrating no strength or stiffness degradation.
FEATURED PROJECTS
These wine and dairy industry operators chose Tectonus to give them ultimate peace of mind.